Threads by latest replies - Page 15
Quoted By:
Quoted By:
anal penetration or just butt holes, traps welcome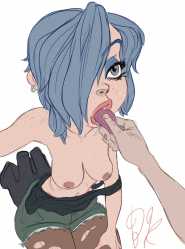 Quoted By:
why is the best kanker so dreamy?
Quoted By:
Quoted By:
I was arrested at 18 with 3 of my girlfriends for pot. I was terrified, it's the only time I've ever been arrested. My car was towed, we got frisked, cuffed, and put into a van. We got to the station they took our mugshots, prints, medical info, and lead us to a room that was like a mix of an office & gym. A policewoman in her late 20's early 30's came in, put 4 boxes in front of us and with a smile, said "Strip, bra & panties too!" The looker room at our old school had private stalls, my doctor was the only person who'd ever seen me naked and I thought that was humiliating. We got undressed as slowly as possible, my hands trembled as I took my bra off. We stood there nude, trying to cover up to preserve what little dignity we still had. "Hands behind your head!" smiling as she said it, I don't know if it was sexual or a power thing but she loved her job. "Wow, you'er going to be popular girls in here tonight. Now stand on the red line, facing the chair." She put on gloves making sure to loudly snap them, then ripped off a piece of that paper they use on doctor's tables and put it on the chair. If you want a visual of what what happened, look up "ACLU prison strip search is abusive" they show a training video, censoring the girl's face and nothing else. She told us 1 by 1 to do that, plus said to do jumping jacks and "Lift your tits by the nipple." even my friend with A cups had to do it. She'd make rude comments about our bodies and look at our faces. If she saw we looked away she'd yell "Eyes forward!" she made sure we saw every inch of each other's skin. "I still think you girls are hiding something." and 1 by 1 we had to do it again. We showered next, she'd say things like "Scrub those pussies, girls like fish to be fresh." We got on uniforms and she walked us to our cell, during the walk said we'd have 3 lesbian cellmates. I was trying not to cry, she put us all in a 4 person cell, laughed "told ya!" Years later, I'm not gay or bi but I do have a WIP fetish.
Quoted By:
ok ko porn
Quoted By:
Quoted By:
Quoted By:
just got done with it more of my drawings r on the simplistic thread
Quoted By:
hi everyone, anon here. The same one who made the last dragon ball thread. I was honestly surprised by how well it did, that i decided to do another one. Happy fapping