Quoted By:
Quoted By:
A thread for any and all catgirls, doesn't matter if they started as catgirls or is a cat girl version of a character.
If it has ears, a tail and goes 'nyah', I want it.
Quoted By:
Ahh, the weather is starting to get warmer.
Classes are finally winding down, the days are getting longer - spring is most certainly in the air.
Why don't we welcome it with a spring-themed Mugi Thread? And not to moment too soon, it seems. So get comfortable, run the A/C, and maybe opt for some iced tea this time around.
Continued from:
>>2860662
Spread the love /c/omrades!
Quoted By:
Best demon girl gets a thread
Quoted By:
Thread for the CUTE girls of this series. Usami-san, Cole-chan, Tachibana-sensei, and all others!
Quoted By:
last thread:
>>2882614
/a/fugees MUST assimilate and refrain from making imageless low-effort shitposts.
OAD 2 subs should be out soon
Season 2 still never
Don't forget to participate in the eternal Monster Musume popularity-poll:
http://www.strawpoll.me/4424426/r
Quoted By:
Constantly in the shadow of Biscuit and Pudding.
Quoted By:
Quoted By:
Almost that time again, Teto's birthday edition. Old bread here
>>2833905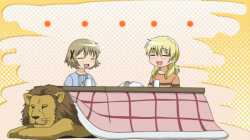 Quoted By: