Threads by latest replies - Page 4
Let's get a thread going for the best SAO swords woman
Quoted By:
Kurisu the cutest!
Quoted By:
Quoted By:
Art and cosplay welcome, post your best android waifu pictures.
Quoted By:
Post more of the best idol from Okinawa!
Quoted By:
This thread is dedicated to Mio Akiyama from the K-On! series.
Mio is the mature but scaredy-cat
bassist, and second vocalist of the band Ho-kago Tea Time.
She is the bass player of the Light Music Club. Even though she acts mature, calm and collected most of the time, she freaks out from things she's afraid of, are gross, or pertain to gore. She is a tsundere towards Ritsu, often due to Ritsu's immaturity. Because of her extreme shyness, she chose the bass over the more conspicuous guitar. She is so delicate that merely imagining herself being the center of attention almost makes her faint. She plays the bass quite well. She is kind and warm with others, caring about her friends and knowing they are important to her.
Although she is not altogether uninterested in joining a band outside school, the time she spends with the Light Music Club members is the time she enjoys the most, so she has completely devoted herself to the club, and during the school festival performance in the fall of her first high school year, she acted as lead vocalist instead of Yui, who had lost her voice at that time. It seemed like Mio might have overcome her stage fright, but after the performance ended, she tripped over a cord and fell, exposing her panties, and was traumatized anew.
Previous thread:
>>2861212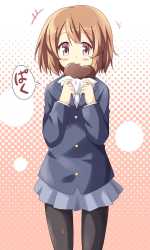 Quoted By:
Valentine's is coming up real fast - what a way to go into Yui thread 174!
On a different note, the original thread 174 surprisingly 404ed. In all my time here I don't recall ever seeing a Yui thread 404 - /c/ is getting more crowded. It was also a really uncanny timing - in the original thread Tenshiro announced his desire to move on from making Yui threads and asked for someone to take his place. Long story short, I offered to for Yui, and here we are. I wanna thank Tenshiro once again for starting these threads during the past four years. They've been treasured by all of us! For the near future I think we'll need to figure out a way to move on with the thread archives to keep those going. Other than that, let's just keep on as we always have to give our dear angel Yui the love and attention she deserves!
Thread Archive:
https://drive.google.com/folderview?id=0B0buMbOlom0fdDZubEpXRlJUUm8&usp=sharing
Thread 173:
>>2813203
→
Quoted By:
Quoted By:
getting hard to keep track of what images have been posted
Previous thread:
>>2844767
Quoted By:
cute girls in cute and comfy winter clothings