Threads by latest replies - Page 2
Quoted By:
Quoted By:
Mike is fucking everything up again edition
Quoted By:
Do you think Wendy browses /cock/?
Quoted By:
Quoted By:
what would the Adam West Batman do in this scene?
She looked pretty fine considering she's in her 60s.
Quoted By:
Look, I know there's an ongoing thing about people thinking Ashi is better as a love interest or a disciple/surrogate daughter. I was always firmly in the latter section. And the last episode, plus this shot especially just helps reaffirm it to me.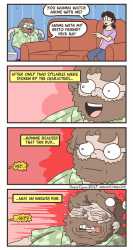 Quoted By:
"See, Agrias. That guy said 'Yes.' That could mean anything! He could have said 'hai' which is more respectful, or 'n' which is more casual. It could be any of those two things! And that time he said 'brother.' Don't EVEN get me started on onii vs aniki. Ha ha."