Restoring missing posts, the site may be slower than usual.

| /his/ and /wsg/ now fixed! | Image server issues.
Threads by latest replies - Page 2
Quoted By:
>God Tier:
Glock
S&W (Revolvers)
Walther
>High Tier:
Sig Sauer
Ruger (Revolvers)
FN
Kahr
Steyr
>Mid Tier:
CZ
Hi-Point (Price considered)
Springfield
Kimber
Canik
Colt
>Low Tier:
Beretta
S&W (Semi Autos)
Ruger(Semi Autos)
Kel-Tec
Bersa
>Shit tier:
Jiminez, Cobra, etc.
Taurus
Quoted By:
>these are the people you debate trigger characteristics, grip, stance and weapons manipulation with.
spooby woods bare minimum loadout? Would you be comfortable going to a national park with just a 9mm? Is it enough just against bears and coyotes?
Things your first gun would say to you today.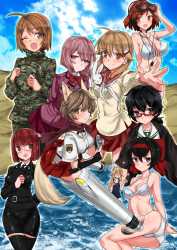 First chapter of volume 5. Enjoy.
I need some help deciding on a first handgun. Here are a few I've been looking at, but I can't really choose one.

Sig P320 compact
Sig SP2022
CZ P07
CZ P10c
Glock 19
HK VP9

I don't really know if I'd prefer a da/sa or a striker fired handgun since I've never shot a handgun before. I'd prefer something polymer to help keep cost down though.
Quoted By:
let's get a thread on /k/-worthy projects and diy shit going
both gun and milsurp related
here's one i've been working on:
>own russian 6b4 body armor
>shipped without ceramic plates because of course it's not
>original plates cost $22 each and my vest requires about 52 of these fuckers
>not keen on paying $1,100+ for some shitty slav ceramic
>buy one original plate come up with pic related
>the mold i made holds a half-cup of liquid and a gallon of casting resin is $55 at cheapest
>can make 16 plates per gallon at a cost of around $3.50 per plate
>the resin is 75 shore d harness (about same as hdpe hard hats), so can probably hold up to airsoft pellets
>after i fill up my own vest, might continue making to sell to russian milsim and reenactor dudes who want something sturdier and more accurate than wood or eva foam, but chaper than original plates and rare pvc repro's
gonna pick up a gallon of casting resin every month
what are you guys making?
>I don't use that brand of ammo, it's way too dirty!
Quoted By:
Quoted By: