Threads by latest replies - Page 6
Quoted By:
>no Nam
>Bonus Points for L1A1
Quoted By:
no thanks edition
Quoted By:
Seems like you guys dismiss Israeli gun doctrine for some reason but they actually know a lot about carrying guns with the expectation of having to shoot someone. In Israel basically everyone who carries a pistol uses a 9mm with an empty chamber, but this is basically the opposite of the doctrine you guys support. Why?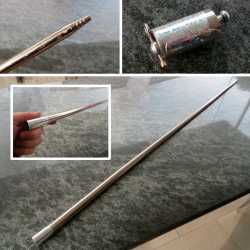 Anyone have experience with these expandable staves and bo staffs? Which one would you guys recommend having with you as a self defense weapon?

I already plan to get a concealed carry, so screw off with your "just get a gun" replies. I'd also like a way to defend myself without the risk of killing my assailant. Also, who'd ever expect someone to carry a concealed metal stick in their pocket? It'd also be easier to tote around.
Quoted By:
/MSG/ miltary surplus general
Other thread hit image limit

Heres my m1 that came in today
IHC
Lmr barrel with Throat and muzzle reading of 2
My friend texted me this photo. I think it's an AK, but i'm not sure. Can you tell me what it is?
Hi there /k/, figured this was more your speed than other boards.

Let's assume you're looking to secure a double wide trailer in a rural location, with a single road in/out from the location. Let's also assume low-cost measures (door alarms inside, planting cacti beneath windows) have been taken.

What other methods or means could be used to secure a trailer from break in, SHTF, urban revolt etc? It's something I've been discussing with a friend, who expresses concern over thin walls and more. I figured it would be an interesting thought exercise if nothing else.

Pic related, though not the trailer in question.
THIS AIN'T THE GURDDMN USMC OR FURKIN CHAIR FURRCE! THIS IS THE GURDDRRM SPACE FURRCE! SO GURRB YOUR WEAPONS, FIND YURR POD, AND GET SET FOR A COMBAT DRRRP!!
Quoted By:
Who here is a sweaty boy? Also I guess we can turn this into a EDC thread