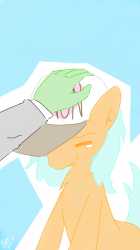 Quoted By:
Passionate, hats-on headpatting edition
>So what is this thread about?
A thread dedicated to Little League, an OC who just so happens to be Lyra's cousin.
>And?
She has an affinity for Anon, and tries to make him 'haply' in any way possible.
>What should I expect?
Fillies, cuteness, shenanigans, and usually a Lyra.
>I'm a writer!
Then write, my dude.
>Got any pastebins?
https://pastebin.com/gXaENX9R
>Funposting allowed?
Yes, just don't over do it.