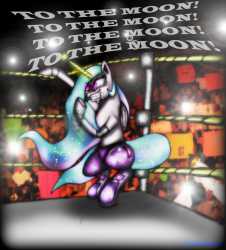 Quoted By:
Hello and welcome to the /mlp/ Waifu Wars thread.
>What is /mlp/ Waifu Wars?
/mlp/ Waifu Wars is a Wresting League where various mlp canon waifus wrestle each other in a videogame called Fire Pro Returns. So one show you might see Sunset Shimmer vs Starlight Glimmer, and the other you might see Celestia take on Derpy. Think of this like the 4cc, but on a smaller scale and involving only mlp and wrestling... and more explosions. I ain't afraid to book a deathmatch league.
>Why Fire Pro Returns over a new WWE Game?
Programmable AI, Deathmatches, allowed to have 500 edits, UFC Fights... It's got more depth in the aspects that's important to running and booking.
>When's the Cytube stream, where's the YT Channel?
The Cytube Stream starts 4PM US Central Saturdays during the league unless stated, though I'll be there 30-60 minutes prior watching wrestling videos and such. Link to stream is
https://derpy.me/bKcnS
The Youtube channel is at
https://derpy.me/Bg4FN
and all matches will be on it after the showing on Cytube.
>But... there's no hooves on the pones.
The inherent flaw of using any good wrestling game, you'll have to deal with the no hooves.
>Why isn't 'X' in the league?
Either because they were an odd waifu out or just a character I haven't made. You can request waifus, but... they need to be canon ones. Also, they'll probably be added until we hit the 48 waifu limit.
>What about OCs/Horsebandos?
Uhhhh... maybe someday? Not saying they won't wrestle on random matches, but making a league? I don't know if there's enough big names, though I know some of you could point out a number.
>Why a new thread though?
One gen moves too fast and I tend to have to reexplain what this is on a decent basis, so this thread was made for that. Also, I feel like it needs to have a separate thread because I kinda feel like it takes away from the memery. The other gen moves at a snails pace and well, I feel like it's better to consolidate into one thread.