[356 / 28 / ?]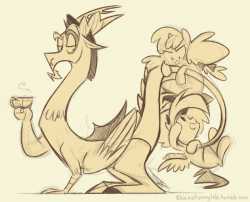 Welcome to Dadonequus! Where the premise is about a human brought to Equestria by Discord himself, in order to fulfill an ulterior motive.
Enjoy stories more in tune to the show! We
usually refrain from any lewd or edgy themes/tones. So come in and experience some of the greatest stories with some of the most apathetic readers on the board!
Are you a newfag? Below are pastebins of stories currently in the making with a synopsis on each one. See which one suits your interests and give it a read!
Any unactive greens can be found in the archive link with a library of stories.
Please feel free to comment, discuss, and give writers feedback! And don't be afraid to create art or start your own story!
All Stories / Archive:
Archive of stories:
https://pastebin.com/RiguRjdM
Active Writers:
Elo (
http://pastebin.com/u/Elohemian
) – Two street urchins -Eris and Resonance- are taken by Discord to Equestria, where they shall fulfill their destinies.
JekyllorHyde (
https://pastebin.com/u/JekyllorHyd
) - A godlike-figure forces Discord to adopt short-fused Cyborg Anoncolt
Wand of Inferno (
https://pastebin.com/u/Wand_of_inferno
) - An unreformed Discord adopts a little Mexican colt named Alberto as part of his plan to take over the world
Zenco (
https://pastebin.com/u/zenco1
) - Discord decides to bring a dumb and perverted dude to be a secret agent... and a little colt as well.
Art:
https://1drv.ms/f/s!AhXTgF2ur7iaa7pvcOXL_uMq17A
Anons who want to join our Discord channel, come shitpost and talk about vidya, motherfuckers:
https://discord.gg/5BeQe2a