2018-10-04: Search server active for recent posts, rebuilding for older posts. DesuArchive & RBT restored after host's storage had a 2nd SAN hiccup on 9/24. No damage, but posts need import from the contingency scraper. Many thanks to our new tetrarchy of sysadmins who worked to fix this complex service after the loss of the original admin. More info later.
Donations
would still help in case of image storage failure and we still need a new scraper.
The server is stable, but the scraper is at its final limits due to crippling resource use and cloudflare limits, so /gif/ and /wsg/ images are paused. Let's solve this: help build a new scraper.
More details here
.
Ghostposting is under extreme vetting by new moderators to mitigate spam. Crackspamming or responding to any is a bannable offense.
Threads by latest replies - Page 6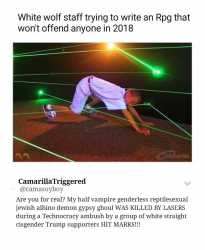 Quoted By:
There's been a number of threads on the subject of creating new 40K factions....But what about Fantasy factions?
Help me /tg/, is it me or the DM that is that guy?
>Pathfinder game
>Long time ago, about two years
>Mid range levels
>stop at a magic items store
>DM lets us all buy something.
>I am playing a ranger
>Buy a cloak with hopes it will let me sneak easier.
>The DM says it's a cloak of draining or something like that and it instantly kills me with no save.
>I get pissed off, why would a shopkeeper sell an item like that?
>He says I asked for the cloak and I shouldn't have been so greedy about magic items.
>Makes me think, but I still think it's bullshit
Who was in the wrong here? It's been eating me up for a long time. Am I at fault for wanting magic items or is he for killing me with something that didn't make sense to me?
Quoted By:
Quoted By:
post freakish, horrible OG monsters
no monstergirl shit please and thank you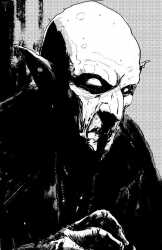 What's a cool superhero name for a vampire character? Pic related, he ain't pretty.

Also, besides heightened senses and physical abilities, what powers would a Nosferatu have?
How do you quell and placate the murderhobo tendencies of new players?
What kind of guns does /tg/ run in their campaigns?
Quoted By: