A new search server has been setup. Multiple terabytes of hard disk storage was also installed.
Quoted By:
tragsg
based 02 edition
Quoted By:
/trash/ drawthread
Previous thread:
https://desuarchive.org/trash/thread/15301523
Your OC/Fursona Drawthread:
>>15344811
Edit and Color thread: N/A
Our booru:
http://trashdump.booru.org
>How do I request?
- Start your post with "requesting" or "/r/".
- Provide names and image references in a single post.
- Don't spam or bump your requests.
- Check the booru to see if your request was done.
- Request edits in the thread for edits.
>What if I want to start drawing?
- Check these resources for beginners:
https://pastebin.com/4CpXsY7a
- When asking for requests: Post a sample of your work and mention what you prefer to draw.
- Also ask for help in the Drawing Improvement/Progress Thread:
>>15333330
>What else should I know?
- IGNORE THE SHITPOSTERS/ATTENTIONWHORES/FILTERFAGS
- REPORT SPAM
- Feel free to post anything that gets done in the booru for others to find later.
- New thread should be done after reaching the bump limit and page 8 - 10.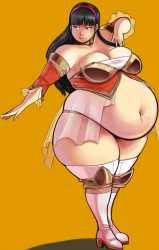 Quoted By:
Quoted By:
Quoted By:
Quoted By:
Quoted By:
Hunger Games Thread / HG Thread: The Gauntlet CXI CONT.
[What is the Hunger Games?]
In these threads, someone may call for "First24/36/48/unlimited". When that happens, reply to the post with a name and picture of an avatar you want to use as a tribute in a Hunger Games simulation. You should also put gender in case it isn't clear. From there, just sit back and watch as the host of the game runs the sim and puts your tribute in a fight to the death with all the rest entered!
During games and during downtime, many people RP as their main avatars (or "avas"). It's not necessary, but it's recommended to fully feel like you're in the game. Don't be shy to just jump right in!
Honestly? Not much really happens today. Enjoy your siesta!
>>15198280
I was about to say something, but my God, you're right. What have I become...?
Artist hate thread general
>Sssonic2 draws anything at all
>Entire furry community bandwagons upon it
>Every second furfag acts as though x fotm was their waifu/husbando all along and they're so glad they're finally getting art
>the same people will react the same way each time the next fotm resurfaces after sssonic2 swipes his divine pen again
Why does an artist create?