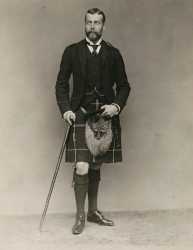 Why the fuck are the English obsessed with Scotland?
Like, before and during the Napoleonic war English command and nobility were regularly wearing Scottish clothing. They also took the English sabre (dirk) and nearly fully replaced sabres with them.
During ww1 they formed a Scottish volunteer division led by the King's brother.
And now they got the Irish battalions, they are essentially a country within a country and England pays 90% of its budget, and Malcolm is expected to get some kind of major promotion. My English friend told me that English women regularly fetishise Scottish men.
And now that they are the only ones having kids it's expected that they will get even more power within Russia.

What the fuck. Just why are English so obsessed with the Scottish?