Donations to the archive
would be appreciated to help fund our server hardware & storage drives. We are looking for developers to help build new software and archives,
discuss here
.
Threads by latest ghost replies - Page 8
Quoted By: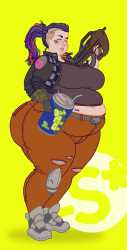 Quoted By:
Female Fatposting General /ffg/
Previous thread:
https://desuarchive.org/trash/thread/47669470/#47669470
Post fat/weight gain fantasies and desires you may have with any female and discuss female fat/weight gain stuff in general. Don't just dump content, focus on fantasies, experiences and ideas. Understand that this is a primarily fat/weight gain-centric thread and posting more niche subfetishes may not go over well with some. No futa. No youwillneverbeabbw posting. Ignore any shitposters. Ignore Catposter. Have fun.
TQ: With the world getting fatter and fatter every year with no end in sight what do you think it will it be like to have a fat fetish 10, 20, 50, or 100 years from now?
Quoted By:
Quoted By:
chadfriend edition
General Drawthread: Friendly Fuzzy Fuckable Edition
>General rules
- IGNORE THE SHITPOSTERS/ATTENTION WHORES AND "INTROVERTS".
- DO NOT DOGPILE OR HARASS THE REQUESTERS AND ARTISTS.
- Posts that are made with the sole intent of bumping the thread are discouraged.
- PLEASE DELETE YOUR BUMPS. If you don't know how then please look at the FAQ on 4chan.
- No arguing about the state of the thread, there's a time and place for everything but not right now. please take it somewhere else.
- No seconding. This isn't a popularity vote of who has the best requests.
- Don't respond to the spam. Just report, hide it and move on.
- Don't ask for a break or to wait "weeks/months/years".
- Feel free to post anything that gets done to the booru for others to find later (like that's going to happen).
- New thread should be made after reaching the bump limit or bumped off/deleted.
- A revision of (or addition to) the rules need a general consensus. Start your discussion around a moment this thread reaches the bump limit.
The Booru:
http://trashdump.booru.org
- Feel free to post your deliveries there
For Edits and Coloring go here:
>>>/trash/color
For other Drawthreads on /trash/:
>>>/trash/draw
Previous thread:
https://desuarchive.org/trash/thread/47786415
Or, if you are browsing within the archive:
>>47786415
Quoted By:
/TLVG/ - The Loud Verse General - Loan edition
Quoted By:
Quoted By:
Quoted By:
/BLEACHED/ General #1404
>"I Fucking Hate Niggers" Edition
--------------------------------------
>USE ANCHOR POSTS<
---------------------------------------
>Previous Thread
https://desuarchive.org/trash/thread/47874516/
>BOORU LINK
https://bleachbooru.org
>BLEACHED Manga Recommendations
https://pastebin.com/LydHWEKx
https://bleachbooru.org/forum/show/6610
>Writefags Pastebin(s)
https://pastebin.com/pAErFPKa
https://pastebin.com/u/OrcessLover88
https://ghostbin.com/cTMU2
>9chan Board
https://9chan
tw/bleached/catalog
(Replace empty space with a period)
>BLEACHED BDSMLR (Run by Booru Admin)
https://bleachedcom.bdsmlr.com
>BLEACHED REAL EDITS
https://bleachededits.bdsmlr.com
>ID CARD MAKER
https://bleached-id.com/
>FACESWAP APP FOR CUTE LITTLE IMAGES
https://picrew.me/image_maker/399481
/BLEACHED/ is a raceplay thread with a focus on white male supremacy. Apart from the obvious (WM/AF, WM/BF, WM/LF, etc.) this also includes White Supremacist White women, Fantasy races, Anthros, Xenos, Robots, whatever. As long as the main focus is the white man's superiority, anything goes.
The symbol and brand for BLEACHED is the Queen of Hearts, a tattoo and symbol seen in thousands of our edits and original content.
The QoH means exclusivity to white men. The Jack of Hearts (JoH), is the non-white male equivalent of this.