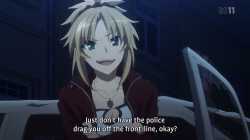 Quoted By:
Anyone else think it's less fun that Servants get summoned with knowledge about the modern world?
New episode in 30 minutes.
What are you expecting this time?
Quoted By:
Who'd win in a fight between Freeza and Hit?
What is his real power level? Would he win with Gogeta?
Quoted By:
Quoted By:
cakes deserve to die alone
anons that don't like jojo
>why?
I see a lot of hate for it on this board but never any explanation as to why
Name one (1) good general.
Quoted By:
Is it me or Azazel just fucking won the Mugaro-bowl?
Quoted By:
The new episode is out, discuss