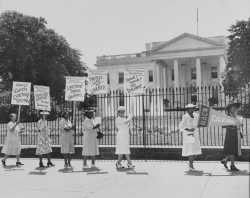 The murders of four black men by a white mob in rural Georgia in 1946 were a late period lynching that sparked major protests in the United States. A white farmer, J. Loy Harrison, who resided in Walton County, employed two young black couples as farmhands. The first was George Dorsey and his wife Mae. George was a 28 year old WWII veteran. Mae was 23. The other couple were Roger and Dorothy Malcom, ages 24 and 20, respectively. Dorothy was well along in a pregnancy in summer 1946.

Loy Harrison was also a known supporter of Georgia's notorious Dixiecrat ex-governor Eugene Talmadge, a virulent racist who boasted at campaign rallies of having personally flogged a couple of black farmhands back when he was a young man. Talmadge was attempting to regain the governor's seat and in a difficult primary fight against opponent James Carmichael, suggesting that Georgian voters were looking for new blood.

Roger Malcom was accused of stabbing a white man named Barnette Hester on July 11. He was arrested and booked into the Walton County jail. Eugene Talmadge was reportedly seen talking to Barnette Hester's brother George and promising clemency to "anyone who could take care of the Negro."